hCG Phase 1
hCG Phase 1 - Most Important Phase to Weight Loss
hCG Phase 1 - Sublingual Serum
On hCG Phase 1 of the weight loss diet is when you are provided with hCG sublingual serum mix together with the HCG powder to lose your body fat at a rate of 1 to 3 pounds per day.
If combined with a low calorie diet, the hCG phase 1 can help you utilize a pound to a pound and a half of body fat per day with minimal muscle loss, causing a rapid weight loss.
The sublingual hCG formula that we have designed is the most effective in the market, because not only help you in burning stored fat but also with the following:
It has been proven to have a 95% hCG absorption rate into the body by your blood vessels under the tongue.


The proprietary blend has a mix of 4 herbs, minerals and vitamin B to increase your energy level while on low calorie diets helping your body to function throughout the day.


Includes Melatonin in small amounts that help your body to release the "Growth factor" which it is essential to the body's ability to maintain youth vitality and energy levels as well.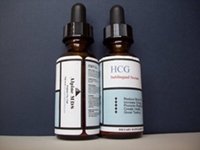 hCG Serum Mix AE-27 hCG Phase 1 and HCG powder
Enriched with Herbs, Vitamins and Minerals for Oral Sublingual Drops Application
21 Days Sublingual Serum On Phase 1
We are very confident that you will find our hCG sublingual serum of phase 1 to be the best.
It allows 95% of the hCG into your body and will miraculously help you lose stored body fat, boost your energy level, and youthful vitality. Learn more about Sublingual hCG Diet.
Additional Recommendations On hCG Phase 1
Make sure that you are able to plan for the amount of days to complete the diet phase 1 which requires a minimum of 21 days and a maximum of 40 days (listen to your body!).
On this hCG diet Phase 1 is when you are provided with the hCG Sublingual formula together with a diet program and the HCG food list inventory to start with HCG Phase 1 which you may get it here!
Whatever the length of your diet phase 1 you must continue the diet after which time you have successfully reprogrammed your hypothalamus.
21 Days Maintenance During hCG Phase 1
You will then enter the 21 day maintenance phase 1. During this period you will need the following:
A bathroom scale capable of weighting to the second decimal place for example: 145.25 lbs.
You will need to weight yourself daily so you can see the amazing results.


A food scale capable of weight in ounces. This is to measure the food allowed to consume during this phase.


You are encouraged to use a good dietary supplement while on the diet phase.
It is very important to follow the list of what to eat and what not to eat which it is provided when you purchase the hCG diet.
It is recommended to add a water soluble vitamin B complex, vitamin C, potassium, and calcium to your diet.
Whole food vitamins are most desirable as well as chelated minerals. Some clients benefit from using digestive enzymes as well.
Wouldn't be nice to be updated about this hCG oral sublingual for obesity treatment?
You may want to learn more typical results and experiences to follow the precise hCG oral diet phase 1 plan as we recommend.
Reminder! If you purchase the hCG Recipes Book, SALE IS FINAL!
Once you sign up, next check over the the recent hCG oral sublingual for obesity treatment daily description testimonial of Denisse.
But otherwise, if you would like to receive your hCG phase 1 formula for 1 to 3 pounds per day of fat or weight loss proceed directly to the online ordering page now!
Back to hCG Phases

Next to hCG Phase 2 Jump to hCG Phase 3
Diet Phase 1 Recipes
Denisse Oral hCG Testimonial

Order Your hCG Phase 1 Products Now!