HCG Diet Kits
HCG Weight Loss Kits
HCG Kits for Weight Loss per Dr. Simeons HCG Diet Protocol
Here is the HCG diet kits you should use during 21 days diet to continue with Dr. Simeons HCG diet for weight loss protocol.
Important to mention is, this is a modified version of the same weight loss protocol. Exception, we don't use HCG shots or HCG injections.
Who loves injections anyway? To counteract injections, the formula we develop is such that the same protocol applies. You still have to follow the daily 500 very low calories diet food consumption.
Our modified protocol has the advantage of 95% absorption power using our serum AE-27 for drops for under the tongue applications.
It is to be used twice daily. A 4 HCG drops dosage when you waken up early morning and the same dosage at bedtime.
Although the serum dissipates quickly in less than 5 minutes we recommend you shouldn't drink any liquid at least for 30 minutes after the first dosage.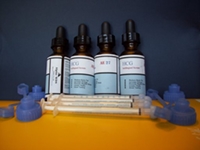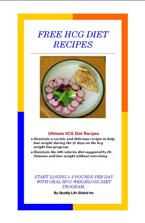 Components of the HCG Diet Weight Loss Kits
The HCG weight loss kits comes integrated with the advanced serum formula AE-27, the HCG powder Pregnyl 1500 IU (UNi Zy), the syringe and the dropper.
All indications and instructions for mixing these components are included in the brochure you will receive when your product arrives.
But what people love the most of this modified to only 2 HCG phases Dr. Simeons HCG diet protocol, is the HCG diet recipes book.
While following this weight loss protocol nothing better to have at hand an unique HCG diet recipes book with more than 100 recipes, fully evaluated HCG diet recipes and with prebalanced calories.
You will concentrate on your weight loss diet and we provide the specific servings which you will use on a daily basis. You will worry only in food preparation and in cooking.
Everything you need to have at hand to accomplish your HCG diet protocol with 100% chances to success is in there.
If you would like to receive this HCG diet kits you can place your order right now and your product will be shipped the same day.
HCG Diet Kits - Back to hCG Diet