HCG Shrimp Recipes
Shrimp Recipes Original HCG Diet
Amazing Shrimp Recipes for HCG Diet
If you were looking for HCG shrimp recipes here you will find several shrimp recipes to make your 21 days diet with Sublingual HCG easy.
The interesting thing concerning these shrimp recipes HCG diet is that they are fully pre-calculated balanced calories. These types of HCG recipes is what most HCG dieters need to succeed on their Dr. ATW Simeons weight loss diet protocol program.
HCG Diet Shrimp Cocktail (Ceviche)
Ingredients for your HCG diet Shrimp Cocktail
5 oz shrimp
¼ cup chopped green bell pepper
1 cup chopped tomatoes
¼ cup chopped onion
1 tablespoon chopped cilantro
1 lemon juice
Dash of salt
Dash of pepper
Directions:
Peel and devein shrimp. Cook shrimp for 5 minutes with salt. Add to cooked shrimp lemon juice, pepper, chopped green pepper, tomatoes, onion and cilantro. Leave it rest in acool place for 15 minutes.
Grilled Marinated Shrimp HCG Diet
Ingredients
1/4 cup chopped fresh cilantro
1/2 lemon, juiced
3 cloves garlic, minced
Dash of salt
½ teaspoon ground black pepper or cumin
5 oz large medium cooked shrimp peeled and deveined with tails attached.
Directions:
In a zip plastic bag, combine the shrimp with the salt, cumin or pepper, Garlic, lemon, cilantro. Seal, and marinate in the refrigerator for 15 min to 1 hour.
Preheat grill for medium-low heat. Cook shrimp for 5 minutes per side, or until opaque.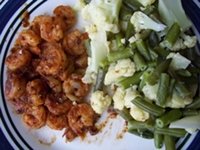 HCG Diet Shrimp Soup
Ingredients:
5 oz Shrimp
1 cup chopped zucchini
1 cup chopped cabbage
2 tablespoon chopped cilantro
2 tablespoon chopped onions
2 tablespoon chopped green pepper
2 cloves garlic
½ tablespoon salt
¼ tablespoon pepper
2 cups water
Directions:
Cook the shrimp in 2 cups of water for 5 minutes.
Add zucchini, cabbage, cilantro onions, green pepper, and garlic, salt and pepper until cooked.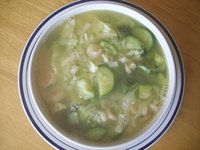 Calories Count! HCG Diet Recipes Book and Grocery Food List
As you may realize, most of the other HCG cookbooks you find out there don't have precise pre-balanced calories on the recipes. Unfortunately, they don't tell until you find your money wasted.
Most HCG dieters buy our HCG diet recipes book and we feel proud is of great help to everyone looking to develop a new figure.
Although it works for any type of HCG diet protocol, our HCG cookbook have been designed for Sublingual HCG diet. No other HCG diet can provide the weight loss results with step by step original HCG shrimp recipes as this one does!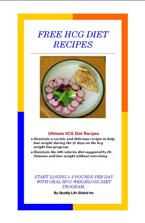 Back to Home Page

HCG Shrimp Recipes and Much More on the HCG Diet Recipes Book for Just $ 19.97