HCG Recipes
Free hCG Recipes for HCG Phase 1
HCG Diet Recipes - Raw Food Recipes for Dr. Simeons Protocol
Finding the right HCG recipes become a nightmare for all HCG dieters. Many websites provides abundant recipes for phase 1, recipes for phase 2 and recipes for phase 3.
Which one to trust anyway? With so many crazy solutions offered online, how are you capable to discern those ones who really work and separate the dreams from the truth.
If you are to pursue weight loss and want to burn fat from your body in any way, it is up to you to differentiate and determine the facts on HCG recipes.
Just take a quick look into this website real testimonials. ""All of them come from real people of different life styles." An easy way to differentiate is looking at the testimonials with photos and pictures.
Stay away from fancy photos purchased and pasted and learn to appreciate those ones which come from real people.
This type of testimonials we are providing comes from people who used Sublingual HCG diet drops together with the pre-balanced calories HCG recipes provided within the HCG Diet Recipes Book we have online.
Free HCG Recipes for Phase 1
You won't be able to succeed in fat burn and weight loss unless you have perfectly balanced calories recipes.
Just one extra ounce and sometimes even a extra gram of food can turn your weight loss journey ashtray.
The HCG recipes book we provide is about 70 pages. You will find all kind of recipes for every serving.
At the end of the hCG cookbook you will find a whole week of already pre-balanced calories servings. Many just repeat these 3 weeks and still succeed.
Many dieters find hard to get a food list to purchase. Here is food list to purchase and the hCG Diet step by step protocol.
We have learned that HCG dieters who doesn't have the time to prepare extra servings to please their tastes, they still do good and obtain satisfactory weight loss and fat burn just by following the same weekly diet, for 3 weeks and the 21 days.
HCG Recipes Example
To prepare yourself for the 21 days diet journey on the first 3 weeks to achieve your weight loss and fat burn goals you must do the following:
Make a grocery list to buy meats and poultry, freshvegetables and fruits every week.
Prepare meats and poultry ahead removing all visiblefat. Pack them in individual bags and weight them tomake sure each portion is 3.5 oz and shrimp 5 oz.
Prepare vegetables and fruits the day before. Weighthem and pack them in separate bags.
Make sure you have nonstick skillets and/or pansbecause all recipes are boiled, steamed or grilled. Youwon't use any oil at all.
Cook several meals a day so you are ready to go by justpicking up your bags every day.
Carry Stevia with you at all times in case you want teaor coffee out of your house.
Try not to eat out to reduce risks of affecting the hCGdiet. Restaurants portions are 6 to 12 oz and marinate can include sugars which are not allowed during hCG diet.
A total of 500 calories should be consumed. Cheating isnot an option. Don't even try one peanut or French friesetc because it will affect the diet.
Weight yourself everyday especially on phase 1 to record the weight you are losing. In phase 2 to monitor your new weight.
Drink enough water during the hCG Diet. Dr. Simeonsrecommends more than 2 liters per day. We have included water as part of the menu.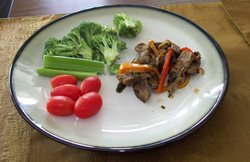 Meat HCG Recipes: Steak Fajitas
Ingredients:
3 ½ oz flat iron steak or top round steak
1 green bell pepper—cored, seeded and cut into thin strips
1 medium onion, thinly sliced
¼ cup water
2 tablespoons fresh lime juice
½ teaspoon ground cumin
½ teaspoon onion powder
¼ teaspoon garlic powder
Dash of salt
Directions:
In a zip plastic bag, combine salt, cumin, onion powder, garlic powder.
Add the steak, lime juice, bell pepper and onion, seal and knead gently to coat. Refrigerate for 15 minutes.
Heat a large non-stick skillet. Empty the content of the bag into the skillet add water and cook over medium heat, stirring occasionally, until the vegetables are crisp-tender and the steak is cooked through, about 6 minutes. Remove from the heat. Serve immediately.
Better Order Your HCG Recipes Book for Weight Loss Success!

Back to Home Page -> Get to Food List To Purchase for HCG Phase 1